Call for Junk Removal Services
We offer dumpster rentals and junk removal services in St. Augustine, Jacksonville, Jacksonville beach, Ponte vedra beach, Palm coast, St. Johns County, Clay County, Flagler county and the surrounding Florida areas. With different sizes to choose from, we are confident you will find the right dumpster to rent, for the right job.
CALL OR TEXT (904) 788-4144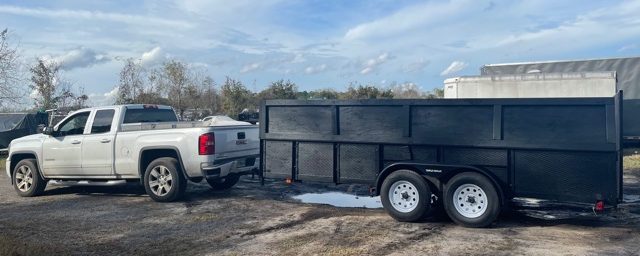 Our dumpsters are all trailer dumpsters, meaning they come on wheels and are parked on your driveway or job site. There are no "roll-off" dumpsters here that cause damage to your driveway or landscaping. Our dump trailers are easy to get in and out of almost any situation, and are residential HOA approved for most residential and haul away jobs. Give us a call or text today to schedule your dumpster and junk removal services!
1) We drop off the dumpster at your residential site.
2) You load it with household or yard debris.
3) We come back and take it with us, dispose of it, send a picture of the weight of the load, and charge it to the card on file.
4) Driveway safe trailers, all trailers have wheels.
5) $10 off all for all military veterans, first Responders, and teachers
Will Travel to areas surrounding St. Augustine, FL.
Sizes Available for Rent
Price includes: delivery, drop off, pick up
15 Yard Dumpster
1-3 Days: $325
12 Yard Dumpster
1-3 Days: $295
10 Yard Dumpster
1-3 Days: $265
Additional Days are $20 per day.
Disposal fees are not included and will be charged to the card on file.
We'll send a photo of the actual weight receipt if you would like so you'll know exactly what the weight was and the amount you are being charged.
If you have additional questions, give us a call or text.
Mixed Use
Household Waste
Paper
Plastic
Glass
Furniture
Yard Waste
Storm Debris
What We will NOT Take!
---
We are not a hazardous waste carrier. We cannot accept:
Paint
Chemicals
Solvents of any kind
Asbestos
Oil Tans or Oil Drums
Radioactive
Volatile
Highly Flammable
Explosive
Bio-medical
Infectious
Toxic or Hazardous materials
Televisions
Refrigerators
Freezers
Air Conditioners
Tires
No free liquids or garbage of any kind are permitted in the container